Can Everyone See the Edit Button? - A lesson in User Experience
Firstly, an apology - It's been a little while since I last posted here, I've got a nice long list of forthcoming blog posts, but had no time to write them.
Anyway, this is a little anecdote from my life, that serves as a lesson in User Experience (UX).
A while ago I set my Mother up with a little Wordpress site, and showed her the basics. She's pretty good with technology, and got to grips with it fairly easily.
A couple of weeks ago she phoned me a little concerned, her question was "Can everyone see the edit button?"
For those that don't know, when you're logged into Wordpress, but viewing the site from the front end, all the posts have an "Edit" option: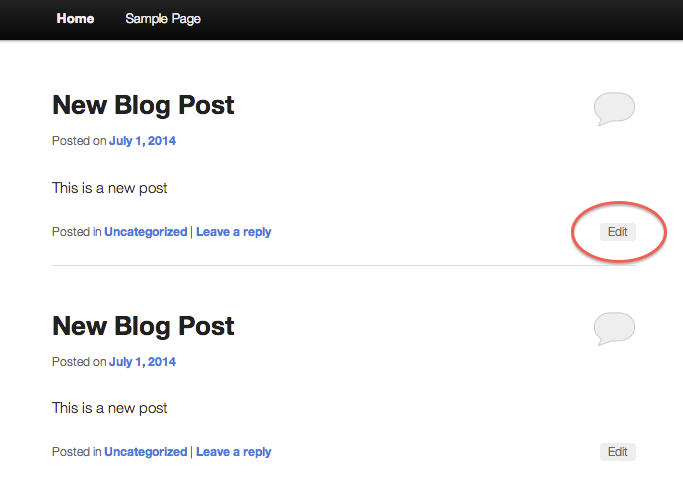 My Mum on noticing this had the quite valid concern that anyone viewing the site would be able to see, and subsequently use, the Edit button. This had never crossed my mind before, and got me thinking.
For the most part Wordpress has a strong distinction between the main site, and the admin area. It's very clear to anyone using it that to access the admin area, you need to log in.
This distinction is blurred by putting an edit button on the posts when viewed outside of the admin area. Someone who doesn't understand how websites and sessions work (like my Mum) may see that edit button and assume it is visible to all, as it's on the main website, and not safely tucked away in the admin area.
I'm definitely not suggesting this button should be removed, it's very convenient, especially when previewing changes to the site. Just make it clearer that the edit buttons are not visible to the whole world, maybe a message at the top of the screen.
The main point is that it's all too easy for web developers to forget what it's like to use the web without an intricate knowledge of how it works. Want a good, cheap way to test your User Experience? Get your mum to try it out :)
- Matt Bearman